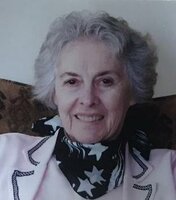 Jean Duff Warshaw
Jean Duff Warshaw
October 15, 1933 – July 2, 2022
Jean Duff Warshaw was born in Newburgh, NY to the late Bob and Eleanore Duff of Bullville. She graduated from Pine Bush School and went on to Beauty School in Newburgh. Jean pursued a career in hairdressing in New York City for two years before being approached to take a job as a Stewardess for Eastern Airlines. She quickly became a supervisor for the airlines. Jean met and married her husband, Manny Warshaw, a freelance photographer, and she left her job to begin her new career as wife and mom to her two sons Erik and Jonathan.
In her late 40's Jean went back to college and earned a Master's Degree in Special Education. She began her third career as a teacher in the New York City School System. She worked there for 20 years influencing many young lives.
Jean also pursued certification in Yoga along the way. She taught many classes in the Jewish Community Center in Englewood. She had a real gift for making all of the complicated movements simple for her students.
Traveling was one of Jean's passions. Always ready for a new adventure, Jean traveled to the Galapagos Islands, Egypt, Israel and England. Her favorite trip was an African Safari. Being a farm girl, she loved all of the exotic animals she encountered on the trip.
Jean was so proud of her grandchildren Julian, Isaac, and Abigail. They were the light of her life. She couldn't stop smiling when she talked about them.
Jean is survived by her sons Jonathan and Eric, her sisters Mary Hossann and Lila Baranowski, and many nieces and nephews. She is predeceased by her husband Manny, and her siblings Robin, Daniel, Tom, and Nicky.
A celebration of Jean's life will be held in Hopewell Church at a future date to be determined by the family.
A donation in Jean's name may be made to the charity of your choice. To leave an online condolence, please visit www.wmgaganfuneralhome.com