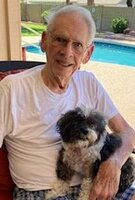 Brian Alden Seabury Sr.
Brian Alden Seabury, Sr. of Glendale, Arizona passed away Monday, June 27, 2022, at his home, surrounded by his loved ones.
Brian was born April 28, 1938, in Brooklyn, New York, to Arthur William and Catherine Heavey Seabury. In 1957 he and Barbara E. Davis were married at the Church of the Infant Savior Catholic Church in Pine Bush, NY. The two lived in Thompson Ridge, NY and were the parents of five children. Brian and Barbara later divorced.
Brian moved his family from New York to Florida where he received his drafting degree from the local community college. He started his drafting career with Pan American working in their NASA field office, currently known as the John. F. Kennedy Space Center, located on Merritt Island, Florida.
Brian furthered his position to a mechanical engineer at the Farley Nuclear Power Plant located near Dothan, Alabama. In May of 1976 he moved his family to Burlington, KS and began working for the main contractors of the future Wolf Creek Nuclear Power Plant, Fluor Corporation and Westinghouse Electric. Brian was just one of four men who oversaw the initial groundbreaking of the construction of Wolf Creek Nuclear Power Plant.
Brian retired in 1997 when he returned to his love of motorcycle riding. He joined the Arrowhead Hog Chapter 83. He participated in several large rides including "The Run for the Wall and Sturgis". He enjoyed and took an active role in many of the charitable rides.
Throughout his life, Brian was an adventurous man. He loved racing motorcycles, especially on the beach while living in Florida. Although there were occasional injuries, he was always itching to get back in the race again.
Brian's love of beekeeping was a hobby taken up in Florida that continued after moving to Alabama. He loved the aspect of putting together beehives and making the frames & hives so the bees would produce honey. The full frames of honey would be spun by his children in a manual extractor and given to family and friends. He loved the process and thrill, but often the bees were not his friends. Every sting he took would cause his face to swell, even with protective clothing.
Brian also sailed a 16ft Hobie Catamaran, which he aptly named "This Side Up". Whether it was just the adventure of sailing the area lakes or racing in a regatta with other yacht clubs, sailing was always a fantastic time. He loved teaching and having his children share in the love of all his newfound adventures.
Brian was preceeded in death by his parents, his son, John Alden Seabury, his sister and brother-in-law, Virginia and Steven Pondi, brother and sister-in-law, Arthur W. and Bernice Seabury, brother-in-law, Mike Shumanski, nieces, Jean Shumanski and Jane Pondi, a nephew, David Pondi, his stepsons, Kent and Christoper Bourdreax and his beloved dog, Jasper Jack.
Brian is survived by his wife, Vickie, son, Brian A. Seabury, Jr. (Tracy), Glendale, daughters, Valerie Seabury, Tobin, WI, Lisa Murray (Kevin), Blue Springs, MO, and Caireen Senatra (Jay), Muscatine, IA, step-daughters, Rhonda Anderson (Harold), Lompoc, CA, and Crystal Rowan (Arnold), Glendale, sister, Miriam Shumanski, Parkland, FL , sister-in-law, Joan Barnes Seabury, Raleigh, N.C., and brother-in-law, Harold Hansen and his friend Robert Stevenson, Pasa Roboles, CA, and many grandchildren, great-grandchildren, along with numerous nieces and nephews.
A private memorial will be held with family and close friends. Due to Brian's great love for his loving protective dog, Jasper Jack, donations can be made to the human society of your choice.