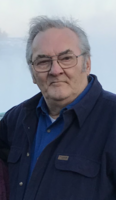 James Richard Peterson Sr.
James Richard Peterson Sr.
Montgomery, NY
James Richard Peterson Sr. of Montgomery a General Contractor and a 35 year resident of the area past away at Garnet Health Medical Center in Middletown at the age of 79 on Friday October 28, 2022 . The son of the late Harold Peterson and Eleanor DelPizzo, he was born on March 25, 1943 in Nyack NY. He was a member of the Orange County Trappers Association. James proudly served our country in the US Navy from 1960-1964. Survivors include his wife Judith Peterson at home, son, James Richard Peterson Jr. and his wife Shannon, daughter, Jessica Bradley and her husband Gary, brother, H. Robert Peterson and his wife Tina. James is the loving grandfather to Elizabeth, Jacob, and Isabella. He is also survived by several nieces, nephews, cousins, and is predeceased by his brothers, Daniel Peterson and Stephen Peterson. Visitation will be held on Thursday, November 3, 2022 from 2-4pm and 7-9pm at the William M. Gagan Funeral Home Inc. 1525 Burlingham Road, Pine Bush, NY 12566. Funeral services will be held on Friday November 4, 2022 at 10am at the funeral home with Pastor Howard Dalton officiating. Burial will take place in the Orange County Veterans Memorial Cemetery in Goshen, NY. Donations can be made to the Tunnel Two Towers t2t.org or St. Jude's stjude.org. To leave an online condolence, please visit www.wmgaganfuneralhome.com.