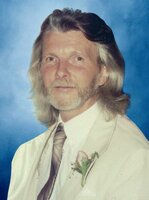 Conrad F. Stenglein Jr.

Conrad F. Stenglein Jr.
Pine Bush, NY
Conrad F. Stenglein, Jr., (73), of Pine Bush, New York, was unexpectedly carried away by the angels on February 17, 2023.
Conrad was born to Conrad Sr. and Estelle on August 16, 1949, in Newburgh, New York. He was a rural Renaissance man, who became a talented artist, steel fabricator, handyman, writer, humanitarian, and lover of animals. It was often said that if Conrad couldn't fix something, then no one could. He was a proud father and doting husband who enjoyed fishing, tinkering, motorcycles, and military history. In his later years, he took a burgeoning interest in pyrotechnics. Conrad volunteered his time as an assistant Boy Scout leader, and provided his expertise to businesses including Orange County Iron Works, Orange County Choppers, Polich Tallix, and the Motorcyclepedia Museum.
After 40 years of marriage, Conrad will remain an irreplaceable part of the heart of his wife, Marcella. He will be remembered lovingly by their son, Conrad III, their daughter, Katherine Leahy, and her husband Michael. His two daughters, Barbara Ann Gambino and her husband Tom, and Karen Dubose and her husband Tim, along with his grandchildren Taylor, Alec, and Jack will also cherish their memories of him. Conrad is also mourned by his brother-in-law, James McGinty and his daughter, Briana. He will be dearly missed by his cousins and many friends. Conrad was predeceased by his parents, Conrad Sr. and Estelle.
Aside from his eclectic range of passions and tireless work ethic, Conrad effortlessly brought smiles to the hearts of others with his wry sense of humor and charitable heart. His home and resources were available to anyone in need, human and animal alike. He never wavered in providing for others, even when he himself was conquering cancer. Conrad was an unabashedly unique individual of indomitable spirit, and he will be sorely missed.
Conrad's family will host his funeral on Sunday, February 26, 2023. The viewing will take place from 2:00 to 5:00PM, and the service will take place promptly at 4:30PM. His funeral will be at the William M. Gagan Funeral Home Inc. 1525 Burlingham Rd Pine Bush NY. For those unable to attend the service in person, please email conradstenglein2023@gmail.com to obtain virtual participation information. A recording of the service will also be made available on Facebook at a later date. In lieu of flowers, please consider making a donation directly to the family to assist them in covering expenses related to their unexpected loss; contact the aforementioned email for further information. To leave an online condolence please visit www.wmgaganfuneralhome.com