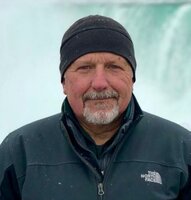 Frank "Frankie" Robert Wippel
Frank "Frankie" Robert Wippel
Pleasant Valley, NY
Formerly of Pine Bush, NY
Frank R. Wippel, 64 passed away unexpectedly on March 5, 2023 at Vassar Brother's Hospital, Poughkeepsie, NY. He was 64.
The son of the late Frank P. Wippel and Carole J. Hudson Wippel, he was born on January 5, 1959 in Brooklyn, NY.
Frank began his career in the NYS Department of Corrections in 1981 as an Officer and retired in 2012 as Lieutenant from the Ulster Correctional State Facility after 31 years of service. Throughout his career he was known and admired for his integrity, his hardworking mentality and the ability to be a great mentor and leader. During his career he worked at various state facilities across New York including Green Haven, Otisville, Sullivan, Bayview, Arthurkill, and Ulster as well as the Harriman DOCS Training Academy. In addition to state work Frank also worked at the Orange County Police Academy. Upon retiring he worked as a Patient Transporter at Northern Dutchess Hospital as well as a Golf Course Maintenance Engineer at James Baird State Park. Outside of work, as well as during his retirement, he spent his time with his love for the outdoors golfing, hiking, running, mountain biking and fishing, along with reading, music and his recent passion for cooking.
Of all his cherished achievements he was most proud of being a loving companion, a great brother, an amazing father to his sons and stepsons, as well as being an exceptional friend to many.
Frank is survived by his sons John and companion Amanda, and Michael, Frank's companion Jennifer McHugh, and his stepsons Thomas and companion Meghan, Sean and companion Maura, and Kevin, Frank's brother Paul and wife Shirley, their sons Zachary, Kevin and companion Carissa and Brian and his wife Jena, Frank's sister Jeannette and husband William and their son Andrew and his many loving cousins. Frank is also survived by best friends Wayne and Paul, numerous co-workers, friends, his cat Dozer and beloved dog Noah whom he adored. Frank was predeceased by his parents Frank and Carole Wippel.
Visitation will be held at 11:00am until 3:00pm on Saturday, March 11, 2023 at William M. Gagan Funeral Home located at 1525 Burlingham Rd, Pine Bush, NY. All are welcome to join Frank's family. A Celebration of Life to follow at approximately 3:30pm located at the Wallkill Shawangunk Community Center on River Road, Wallkill, NY. A special thanks ICU Unit and to the entire staff of Vassar Brother's Hospital for their utmost compassion, support and care in his time of need. In lieu of flowers memorial donations may be made to St. Jude Children's Research Hospital or Memorial Sloan Kettering Hospital. To leave an online condolence, please visit www.wmgaganfuneralhome.com